TAMPA, Fla -- After failing in their attempt to sign every available superstar free agent, the New York Yankees today announced the signing of Casper Van Buren, Major League Baseball's first invisible player. In a brief press release, the Yankees said "We feel that Casper will give us the critical edge that was missing last year. When he's not wearing a uniform, nobody will know where he is and we plan to take advantage of that." One plan has the Yankees using Van Buren as a spy in the opposing clubhouse. Another calls for him to be used as a pinch runner since nobody will be able to tell when he steals a base.

Clubhouse reaction to Casper was mixed. "A players color - or lack of color in this case - makes no difference. It's what he does on the field that counts," said team captain Derek Jeter. Others were less supportive. "I'm not sure I want to shower with him." said one player who asked not to be identified, "He could be checking me out and I'd never even know it."




Tino Martinez gives Casper a pat on the head as he emerges from the dugout for his first practice with the team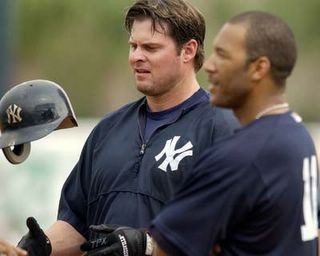 As Van Buren awaits his turn in the batting cage, Jason Giambi estimates the size of Casper's "bat"