In our top story, the sun was kidnapped early this morning by a radical group calling themselves "Sleep In." The group posted a picture on their web site of one of their members capturing the sun in a tiny box and said they will release the sun only if it promises to not rise until at least 10:30 a.m. on weekdays and noon on weekends.



In politics, John Bolton cloned himself and stormed the Capital building, threatening to beat the living s**t out of anyone who called him a foul-tempered bully and ruin the careers of anyone who said he was vindictive. Terrified politicians quickly confirmed his nomination as U.S. Ambassador to the United Nations, and the Bolton army immediately left for New York, vowing to "kick some U.N. ass."



In world news, the Japanese government took drastic action today in their continuing battle against overpopulation by shrinking it's citizens to a height of 12 inches. Experts now predict that the entire Japanese population will fit into a single apartment complex in Tokyo. In a related note, the country's supply of Bratz and Barbie dolls sold out within two hours.



An unidentified woman's head burst into flames as she strolled down 5th Avenue in Manhattan yesterday. Horrified onlookers quickly rushed to her aid, smothering the flames before stealing everything of value from her pocketbook.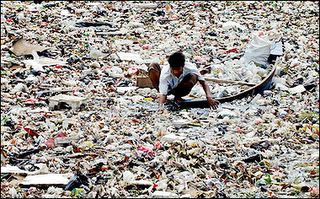 On to the weather. The unseasonably warm temperatures in New York have people looking for any way possible to cool off, including this man who sought to beat the heat by canoeing on the East River.



In fashion news, one model died and another barely escaped injury when their clothes suddenly turned against them during a fashion show in Germany. Heidi Kohl was strangled to death, but Gretchen Smith was able to free herself by eating her tasty black licorice vest before it could harm her. As paramedics carried away the deceased model, the usually restrained German audience responded with a standing ovation to what they assumed was an avant-garde show.



In culture news, a new hairstyle called the Phil Spector is taking the country by storm. Pop culture experts believe that it will rival the popularity of the Farrah hairdo of the 1970's and the 1990's Rachel look.



The French Open men's final was delayed for several hours as police and rescue workers struggled to disentangle a massive pile of bodies created when a group of ball boys and girls rushed the court to get into position for the match. Doctors in Paris are now huddling to try to figure out a way to untie a young ball girl rescued from the pile.



Meanwhile, eventual French Open men's champion Rafeal Nadal was knocked unconscious during warm ups when he tried to use his pyschic powers to stop an approaching tennis ball. Just prior to the injury, Nadal had bragged to fans seated nearby that he'd been bitten by a radioactive spider in the locker room and had gained special powers as a result.

"He's absolutely insane." said one fan who witnessed the incident. "Everyone knows that Spiderman has super strength, not psychic powers."



Finally, in entertainment news, Don Johnson announced that he will appear in a cameo role in the upcoming Miami Vice movie featuring Jamie Foxx as Ricardo Tubbs and Colin Farrel in Johnson's old role of Sonny Crockett. "I've let myself go a little bit," said Johnson "But it's nothing that a quick shave and a couple of trips to the gym won't fix."