This just in. "Random Thoughts" has learned that Tom Cruise is secretly dating former Dawson's Creek star Katie Holmes. More on this developing story as it unfolds.



In world news, an experiment is underway in Great Britain to see just how much more unattractive the British can make themselves. Immediately after the bicycle tour that marked the event's kick off, bio-hazard suit wearing members of Britian's National Disease Control Centre swooped in and burned all of the bicycle seats.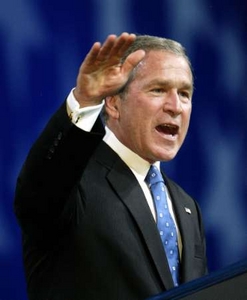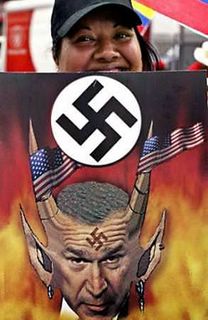 As he eases into his second term in office, President Bush appears to be relaxed and more willing to open up about his vision for the country. Not surprisingly, his popularity has skyrocketed among registered Republicans.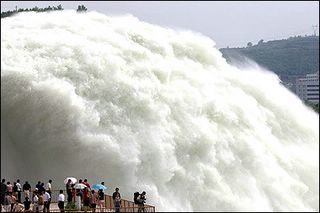 Frustrated by the slow pace of U.S. efforts to eliminate acid rain, the Canadian government fired back today by rolling a giant snowball across the border and injuring several individuals atttending a rooftop party in Detroit.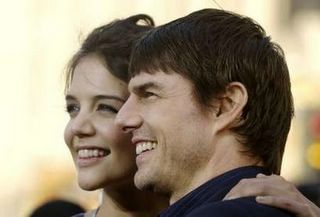 As we told you in the top of this broadcast, we are able to confirm that Tom Cruise and Katie Holmes are, indeed, dating. While the couple has done everything possible to keep their relationship private, our sources tell us that Cruise is apparently madly in love with the actress despite the fact that she has ruled out converting to Scientology, calling it a "fake religion created by a failed sci-fi writer and practiced only by complete lunatics."



Embarrassed scientists at the National Earthquake Center in Golden, Colorado admitted this afternoon that what they initially announced as an earthquake in Southern California measured at a magnitude of 5.3, was actually the work of a bored geophysicist who doodled on the seismograph.



An angry George Steinbrenner threw Bill Clinton out of the owner's box at Yankee Stadium after the former President began eating the Yankee owner's dinner. Reached later, Clinton denied having done anything wrong, saying unequivocally "I did not eat off that man's plate."



In our continuing coverage of this rapidly developing story, Tom Cruise and Katie Holmes got engaged after he popped the question atop the Eiffel tower in what their publicists called a "very private and completely unique" moment.

In response to the approximately zero questions he was asked about the subject during a Paris news conference, a tight lipped Cruise would only say, "It was early this morning at the Eiffel Tower, so I haven't slept at all. Today is a magnificent day for me, I'm engaged to a magnificent woman."

As reporters assured him that they don't care about his personal life, the actor continued. " I've never been to the Eiffel Tower. It's Paris, it's a beautiful city, it's very romantic. We haven't discussed a date yet. One step at a time. Let's see. We're not sure. Oh, and I'm not gay. Really. Make sure you write that part down."

He then talked for two hours about his undying love for Holmes, eventually concluding his remarks to an empty room as all of the reporters had walked out in disgust by that point.

In a related story, Holmes announced that she will convert to Scientology saying that it was a decision that she and Cruise reached together, and that it had nothing to do with the brainwashing that she underwent during a recent visit to the Church of Scientology's major west coast headquarters, the Pacific Area Command Base.



Graffiti artists struck this weekend at Coney Island beach, surprising dozing sunbathers who awoke to find themselves "tagged." Local police launched what they called "an all out war" against the vandals, but also warned beachgoers to "stay awake and stay vigilant" lest they become the next victims.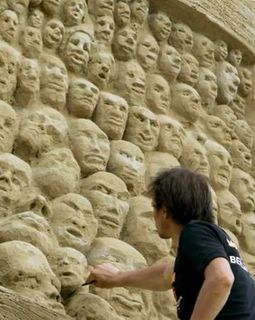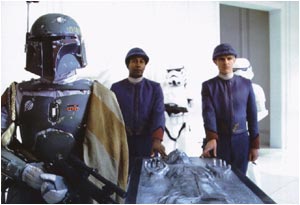 Faced with rising shipping costs that threaten to put him out of business, famed intergalactic bounty hunter Boba Fett announced that he will no longer encase his captives in individualized frozen carbonite containers. Instead, he will switch to a new frozen carbonite container capable of holding upwards of 250 captives at once, which he estimates will save him over $500 million per year.



The world's first attempt to breed a giant catfish with a human being has failed. The couple reportedly went to dinner and a movie before ending the evening with a brief kiss at the dock. Afterwards, they said that the chemistry "just wasn't there" and that neither is interested in being more than friends.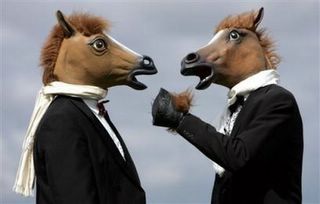 However, the results of other genetic engineering experiments have proven more successful including one involving human brain cells and horses....



...and another involving a panda and actor Stephen Baldwin.



In entertainment news, Elton John had himself covered in chocolate in an effort to stop the aging process after he learned that additional plastic surgery was not an option for him. The singer claims to love his new look, adding that "it's also an excellent way to meet young boys."



In other news, actress Jennifer Love Hewitt was in town this weekend to congratulate the winner of the first annual "Jennifer Love Hewitt look alike contest."



Fresh from her reported role in the break-up of Jennifer Anniston and Brad Pitt's marriage, Angelina Jolie set her sights on a new target this week. Jolie, who has served as the U.N. High Commissioner for Refugees goodwill ambassador since 2001, used her designation to wrangle an invitation to the Washington ceremony marking the opening of a five-day recognition of June 20th's World Refugee Day.

Heedless of the budding romance between U.S. Secretary of State Condeleeza Rice and Paul Rusesabagina, the hotel manager who provided protection for more than 1,000 refugees during Rwanda's genocide in 1994, Jolie sat between the couple and openly flirted with Rusesabagina throughout the event.

Despite the fact that they left the event together and that she was seen sneaking out of his hotel room the next morning, the actress insists that nothing happened, and that she and Rusesabagina are just "good friends."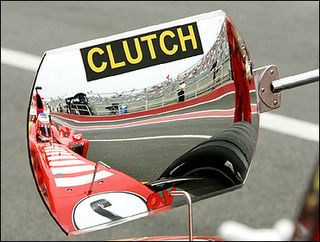 In sports, Brazilian F1 driver Rubens Barrichello finished in last place at the Grand Prix of Canada, after a member of his pit crew mistakenly stuck the clutch label in the wrong place. The car repeatedly stalled and never left the starting line as the driver furiously tried to shift gears while pressing on the mirror.



Man, I'd love to date this woman. Oh.......erm......sorry.....back to the news.



Police are asking your help in identifying the men who mugged San Antonio Spurs star Manu Ginobili during game two of the NBA finals. They released this picture taken by a security camera in the building and asked anyone with any information to come forward by calling 955-TIPS.



Finally, Tom Cruise and Katie Holmes announced that they have broken up. The two said that they remain close, but that the relationship had just reached a point where it just wasn't working any more.

Cruise followed this announcement by dropping in on the Oprah Winfrey show to declare his love his 11 year-old "War of the Worlds" co-star Dakota Fanning, "I can't be cool. I can't be laid-back," an exuberant Cruise said during a taped appearance on the show. "Something happened and I want to celebrate it."

A starry-eyed Cruise got down on his knees and repeatedly jumped up on the couch like a Robin Williams comedy act, saying that his love for Fanning was "beyond cool."

Will he propose? His answer did more than leave the door open.

"I'm going to discuss it with her," the twice-divorced actor said. "Honestly, I haven't had this kind of experience before."