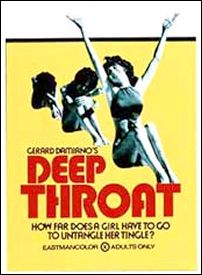 The mysterious Deep Throat was unmasked recently when Mark Felt, the former number two man at the FBI, revealed that he was the person whose guidance was vital to the Washington Post's coverage of the Watergate scandal. Felt provided insider information that helped Post reporters Bob Woodward and Carl Bernstein uncover the web of internal spies, secret surveillance, dirty tricks and coverups that led to Nixon's unprecedented resignation on Aug. 9, 1974, and to prison sentences for some of Nixon's highest-ranking aides

However, the story took an interesting and unexpected twist today when attorneys for the family of Linda Boreman (a.k.a. Linda Lovelace) filed an injunction seeking to ban Felt from referring to himself as Deep Throat and claiming that Ms. Boreman holds the sole claim to that title as the result of her work in the 1972 groundbreaking adult film of the same name. As proof, they held a special screening of the film for journalists. Afterwards, several members of the media said that they were so shocked and appalled by the pornographic content of the movie that they could only bring themselves to watch it six or seven times before walking out in disgust.



In world news, European Union (EU) foreign policy chief Javier Solana announced during a news conference in Brussels that the leaders of countries seeking to join the EU will be required to jump through a ring of stars set six feet above the ground. He offered no economic or political reason for the requirement, but did mention that his job is quite boring and that he hopes this will "liven things up a bit."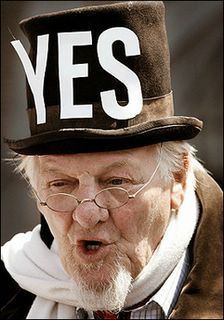 Speaking of the EU, Dutch voters resoundingly defeated a crucial referendum on the EU constitution, striking a second and potentially fatal blow to the treaty. Because the Dutch are fierce proponents of the secret ballot process, exit pollsters found it nearly impossible to predict how the vote would turn out. "It's not as if they wear a sign around their neck telling you how they voted" complained one frustrated pollster.




The embattled Catholic church faced another crisis today when Pope Benedict XVI was spotted peeking up Jesus' toga during a blessing in St. Peter's square. Upon realizing that he'd been caught, the Pope pointed to a spot behind the crowd, shouted "Hey, look! A bird!" and escaped when they turned to look.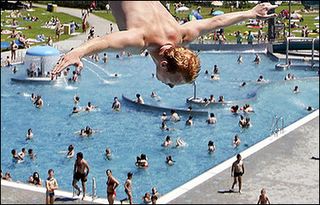 Water Kingdom Park was shut down for repairs earlier today when it was discovered that their new high diving board had been installed too far away from the pool and facing the wrong direction. Several divers were injured before park officials noticed the error.



As part of it's continuing move towards democracy, Oz will open it's borders for the first time next week. This means that visitors will no longer need to engage in the dangerous and sometimes deadly practice of "tornado hopping" to gain entrance into the country. In preparation for the expected influx of visitors, transportation officials paved the famous yellow brick road and are nearing completion of a second rainbow which will allow air traffic to avoid the bluebirds that threatened to wreak havoc with planes flying over the original rainbow.



Meanwhile, labor issues intensified in Oz as the Lollipop Guild workers struck for better working conditions. The plant was originally staffed by Munchkins. However, many of those workers left after signing a lucrative naming rights agreement with the Dunkin' Donuts chain, forcing Oz to look outside of it's borders to hire skilled workers. Chief among the complaints of these workers is that they're forced to sing the "Lollipop Guild Song" every time a visitor arrives. They're also negotiating the right to nap on the job like their brethren in the Lullaby League. "The Wizard of Oz had better start paying attention to the little guys in front of the curtain before this spirals out of control." said a union spokesman.



Two America West pilots accused of being drunk in the cockpit were not impaired and were never in control of the jet because it was being towed by a runway vehicle, defense attorneys said Monday at the start of their trial. Because the Airbus 319 bound for Phoenix was being towed from its gate at Miami International Airport, the steering was disengaged and neither pilot Thomas Cloyd nor co-pilot Christopher Hughes could operate the plane, attorneys said in opening statements.

Prosecutors say Cloyd and Hughes ran up a $122 bar tab and consumed 14 beers at a popular Coconut Grove sports bar after having dinner with drinks. They left the bar early in the morning, six hours before the flight was to depart but both pilots still had breath-alcohol levels above Florida's 0.08 percent limit after they were arrested.

I can't even think of a joke more absurd than that defense.



Two local men used six bags of charcoal and four gallons of lighter fluid to start a fire to grill four hamburgers. The resulting blaze raged for three hours before firefighters were able to bring it under control enough to allow the men to flip the burgers.



In business news, as part of his ongoing quest to catch the Road Runner, Wile E. Coyote began subcontracting his pursuit work to local agents. In a related move, ACME announced that the agents will be eligible for discounts on the full ACME product line, which includes items such as the jet pack used by the newly contracted agent pictured above.

Unfortunately, Mr. Coyote has yet to see any results from this program. Shortly after this picture was taken the agent was knocked unconscious when he slammed into a painting of a tunnel on brick wall that the Road Runner had run through just seconds before.



Thousands of people fled in terror this weekend when a freak hat storm passed through the region, marring what had been an otherwise beautiful day. No fatalities were reported, but several people were treated for injuries at a local hospital. The most seriously injured was Kay Jones, a visitor from Biloxi, Mississippi who was temporarily blinded. After three hours of surgery doctors were able to restore her sight by removing what they described as a gray felt fedora that had become wedged on over her eyes.



In sports, ESPN's 'X' Games which already include Bike Stunts, Moto X, Skateboarding, Surfing and Wakeboarding, will unveil a new event this summer - The TGC Relay.

The race will feature relay teams sprinting through city streets using a smoking tear gas canister rather than a relay baton. To add an element of what ESPN calls "X-treme Excitement", the athletes will be pursued by a riot police relay team who will try to beat them senseless with a telescopic steel baton. An X Games spokesman said that organizers are very excited about the event which he called the "next evolution in extreme sports."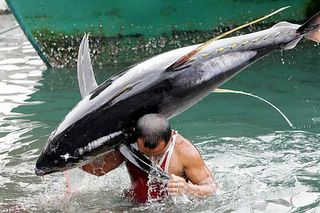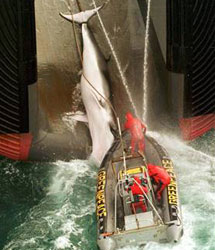 Meanwhile, the Water Rodeo swept into town this weekend. As always, Tuna Wrestling was the most popular draw but the big surprise came in the Whale Roping event where the previously unheralded Greenpeace team took home the gold medal after setting a new world record of 48.4 seconds.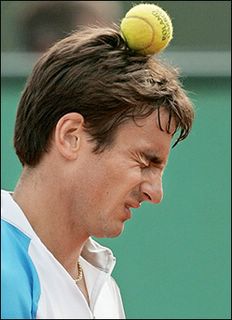 Tennis officials finally decided to look into racquet technology that some feel has gotten out of hand. This investigation comes as the result of an incident at the French Open in which tennis player Tommy Robredo of Spain was injured when a ball became embedded in the top of his head as he tried to return a 175 mile per hour serve.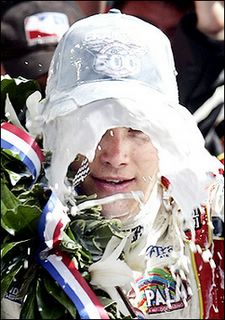 Briton Dan Wheldon was extremely excited about winning the Indianapolis 500.

Erm....this is a family blog so perhaps we should just move on.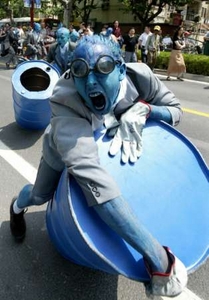 In entertainment news, Teal Man Group's efforts to challenge the dominance of the more successful Blue Man Group took a tragic turn this weekend when their leader suffered severely crushed testicles in a collision with an oil drum during a recent street festival. The group immediately cancelled the remainder of their world tour which had included such venues as "Ed's House of Vaguely Interesting Things" in Dubuque, Iowa and "We Tried to Get Better Acts, Really" in Kenosha, Wisconsin. There's no word on when or if the group will reschedule any of the cancelled shows.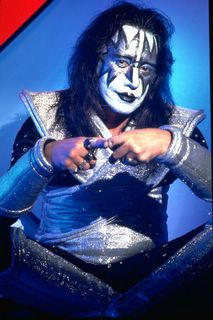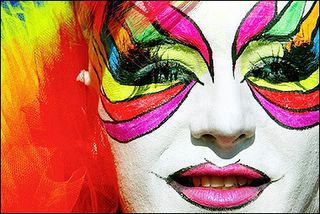 Finally, many KISS fans were taken aback yesterday when former guitarist Ace Freely's came out of the closet. Others, however, were not as surprised. "It's not like you didn't have enough clues. " said one "I mean, the guy wore makeup, a leather jumpsuit, and high heeled boots. If your shocked by this, then you either haven't been paying attention or you're in denial." Freely also took the opportunity to unveil the makeup scheme that he always wanted to wear when he was with the band.