Before we jump into the WIP, I thought I'd share a quick story. I was riding the subway to work the other day. The train stopped at a station and the doors opened, but quickly closed again, catching in them few unfortunate souls who were trying to reach the platform. One woman's bag was stuck in the doors, another's woman had her leg stuck and further down the car, the doors had somehow closed on a man's neck. Of course, they were all panicked and screaming at the conductor to open the doors, which he did a few seconds later.

Lesson learned from this incident: When exiting the train, never lead with your head.

Okay, on to the WIP...



Scientists from Mexico's tequila producing region say juice extracted from the blue agave plant, best known when distilled into the fiery spirit, may help dieters shed pounds and cut cholesterol.
At last they've come up ther perfect diet!



Heeding his own call for Americans and federal workers to cut back on unnecessary travel to make up for fuel shortages caused by Hurricane Rita, President Bush chose to forego the helicopter during his most recent flyover of the damaged region.



Meanwhile, relief workers, including this one delivering a pickup truck full of fresh water, continue to provide aid to the people in the areas hardest hit.



In Ireland, a divorced woman armed with a straw was unsuccessful in her attempt to huff and puff and blow down the castle that her ex-husband was allowed to keep in the settlement. He attributed its ability to withstand her attack to his to his decision to build the structure out of stone rather than his first two choices, hay and sticks.



Onlookers gasped in shock when famed superhero Spiderman went on the Today show and "outed" himself as a chiuaua.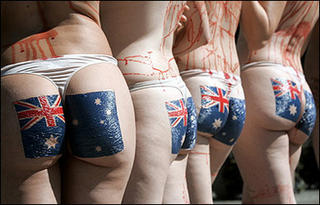 In an effort to combat a growing problem with illegal immigrants, Australia is now requiring it's citizens to have the country's flag tattooed on their asses.



In South Korea, SWAT teams going through anti-terrorism exercises jumped through flaming hoops, a skill that should come in handy now that they've passed a law requiring all terrorists to light flaming hoops prior to setting off explosives.



This week's gratuitous picture: Vanessa Minnillo



Another co-conspirator in the canine brothel saga, shown here being kissed by his wife as the police led him away, was arrested this week.



After leaving the Supreme Court, Anna Nicole Smith, a former Playboy model who is seeking $88.6 million from the estate of her late husband, J. Howard Marshall showed how she was able to convince the Justices to hear her appeal.



Flip, a silvery gibbon in Munich's Hellabrunn zoo became the first of his species to begin using a wireless headset when making his cell phone calls.



Historians in London have decried the British government's decision to turn the pillars of the House of Parliament into outdoor toilets.



A man in North Carolina is suing a housing developer after his new home, which had been advertised as being "on the golf course," was actually built on the 18th green.



Famed cereal spokesman Tony the Tiger was forced to resign from his post after he and his wife were caught performing BDSM acts in public.



The famed Medusa of Greek mythology has come out of retirement and decided to pursue a modeling career.



Faced with a critical shortfall of comic pratfalls amongst distracted blue collar workers, the city of Chicago has posted lingerie models at the corners of several busy intersections.



Desperate for relief pitching to help during the critical last three games of the season against the Yankees, the Boston Red Sox signed free agent relief pitcher Chewbacca - shown here accompanied by his agent Princess Leia during his tryout.



Hollywood star Ben Affleck has given up smoking and begun a fitness regimen in preparation for his impending fatherhood.



Meanwhile, a Tonight Show appearance by Affleck's wife Jennifer Garner was abruptly cut short after she became overly excited upon realizing that she'd grown sizeable breasts during her pregnancy.



Ms. Garner then went on a mission to have her pregnant stomach touched by every celebrity in Hollywood.



After appearing on several talk shows, she decided that standing on the red carpet at the Emmy awards would be a more effective way of reaching her goal.



Which she did after several hours of hard work, by convincing the only remaining celebrity who hadn't done so, "Malcolm in the Middle" star Jane Kaczmarek, to pat her stomach on the way in to the ceremony.



And finally, in our last Jennifer Garner story of the week, the Alias star was asked to leave the phone bank for the "Shelter from the Storm" fundraising concert for repeatedly telling callers "Help me, please! I've been forced to marry Ben Affleck and have his baby!"