Random Friday Thoughts:

I'm heading upstate this weekend to hike, rock climb, and/or go white water rafting. I can't tell you how much I love autumn.

I received an interesting resume and cover letter this week. The resume was titled "Challenging Employee", which I'm not sure is exactly what the candidate meant. The best part is that the cover letter contained the following line:

I LOVE THE CHALLENGE, I AM AN ANALISISTIC PERSON, I HAVE A BRAIN AND I AM CONSTANTLY USING IT.

I predict a stellar career in Human Resources for her.

Overheard in the book store:
"MySpace is a site for underage drinking and...well, let's just say underage drinking and leave it at that. "

And I thought "(1) What a dumbass and (2) I wish they had websites for drinking when I was underage. I would have never left the house. "

Let's move on to the WiP.



The Yankee Candle Company is recalling several thousand stick candles after reports that they shoot hot wax when stroked.



Police in Nagoya, Japan have advised the public to be on the lookout for a robbery suspect considered armed and dangerous.



A member of the Chinese paramilitary police's special force is facing a court martial hearing after he broke a 3,000 year old relic he was carrying when he sneezed.



Pakistani fire fighters have added powerful weapon to their arsenal after hiring a man who uses his powerful urine streams to help fight blazes.



The Taiwanese government has launched a recruiting campaign specifically designed to lure Grant into joining their armed forces.



Alternate Caption: General Dynamics Land Systems is trying to distinguish itself in the battle tank market by throwing in an exotic dancer with every tank sold.



The move is also timed to take advantage recent allegations that competing battle tank manufacturer BAE Systems Land Systems uses small children on treadmills to power their wheels.

Our video of the week is Here (In Your Arms) by Hellogoodbye






While the debate regarding the chicken and the egg continues, recently uncovered evidence indicates that the ostrich and the egg arrived simultaneously.



Rescuers worked for several hours to free a man who became trapped in his newly remodeled house when his contractor misread the blueprints and built a mouse hole sized door.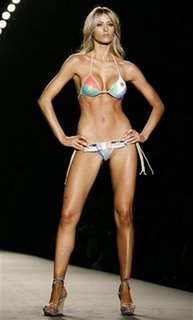 Gratuitous picture of Elena Santarelli



Arsenal's Thierry Henry and Alexander Hleb incurred the wrath of fans when came out of the closet in the midst of a match only to have FC Porto to score an important goal while they were hugging at midfield.



After two years of disappointing sales, Kellogg's has announced that it will discontinue its "Tarantula Flakes" breakfast cereal.



A church in Dornbirn, Austria was flattened when one worshipper suddenly had doubts while listening to a sermon on how faith can move mountains.



Several horses at France's Cadre Noir de Saumur national equestrian school have filed sexual harassment charges against their handlers for what they call the "suspicious frequency and inappropriateness" of their thrice daily hernia checks.



Keeper Kesha Phares of the Pittsburgh Zoo and PPG Aquarium will be the featured artist at a local gallery exhibit highlighting a series of abstract paintings she created using water seal.



And finally, Bulgarian Simona Peycheva failed to medal at the European Rhythmic gymnastics championship in Moscow despite her provocative, yet unfortunately named, "Balls on my Chin" routine.